We are excited to announce that taking quality surgical video along with high quality video monitoring just become instrumentally easier! In November 2018, we are releasing a new wireless option for our 4K voice activated light weight video option.
The days of having multiple cables running here and there are over and you can now run the entire microscope and video recording system will only 2 short cables that never tangle! The tangle you see here will disappear magically!
For those prior customers who have video systems, the wireless upgrade is an easy and inexpensive upgrade to your EPIC1 system.
To see a demo of this remarkable new system, please contact us at: This email address is being protected from spambots. You need JavaScript enabled to view it. while at the AAO.
The main problem with adding video to a mission microscope is that the setup can be arduous and complex.  The EPIC Video stand alone kit allows you to easily add video to any Zeiss compatible microscope that you work with.  This kit comes with everything you need to record and monitor video and can be completely run off of the included battery.  
This specially developed kit includes a voice activated 4K digital camera that gives a hi definition picture that will be sure to please your viewing preferences.  In fact, we recommend recording in 1080p as generally adequate (since it takes less space to store these cases)
The following video was taken using the EPIC Video stand alone kit in Africa.  Please speed through it to observe the quality of the images that have been captured.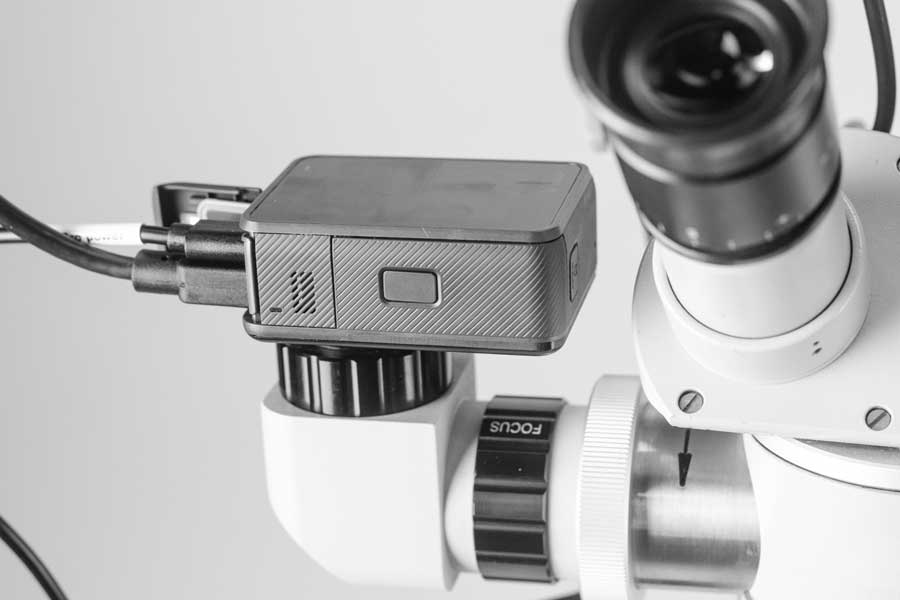 The EPIC video teaching and recording system can be added to the EPIC operating microscope or any Zeiss compatible microscope.  The latest EPIC video system can be operated via an Android or iPhone app, via your voice or with the on camera buttons.  It records in resolutions up to 4K and records audio along with the video.  Our included high definition monitor displays 16.7 million true colors and is the same monitor that professional photographers use for on location shoots.   
Our EPIC video system has been 2 years in development with the purposes of: